KLE Society's Founder Members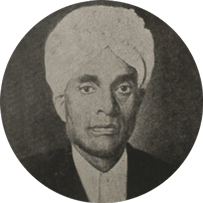 PROF. M R SAKHARE (1892-1951)
Born in the year 1892 at Rajagoli in Hukkeri taluka, he finished his school education in Belgaum and Kolhapur. He achieved first class honors in BA (1914) and MA(1916).His zest and thirst for education motivated him in playing a key role in commencement of the first anglo vernacular school in 1916.He served as the first principal of GA high school and the secretary of the KLES from 1928-1935. He was the pioneer of fund raising for the society. Lindharn Chandrike is a wonderful literary work by him.
PROF. S S BASAVNAL (1893-1951)
Born at Haveri in 1893, he completed his matriculation and went on to finish his MA with first class honors from Deccan College, Pune in 1916. He donned the roles of a teacher, Head master, Professor, founder life member and secretary in his wonderful and illustrious association with the KLES panning over a period of 35 years. He was the chief editor of two kannada weekly publications Jaya Karnataka and Prabodha. He also chaired the Akhil Bharatiya Kannada Sahitya Sammelana in 1944.
SHRI. B B MAMDAPUR (1891-1973)
Born in a destitute family of Mamdapur village in Gokak taluka he overcame all the hurdles and challenges to successfully complete his MA from Deccan College Pune in 1916.He was very closely and actively associated with the inception and growth of the KLES. He served as the society secretary from 1926-27. He had an equally commendable achievement outside the society domain and served as a senate member of the prestigious Bombay University from 1938-43 and a member of the Legislative council Mysore from 1958-63. His contribution was instrumental in setting up the Lingraj College. He was a very humble soul despite reaching such zeniths against all odds.
DR.H F KATTIMANI (1887-1976)
Born in 1887 in Dharwad he finished his education in Kolhapur and Deccan College, Pune. He had an insatiable desire to spread the light of education which pulled him to the founding team of the KLES. He maintained the account books of the KLES at the time of inception and served in the capacity as teacher, life member and secretary. He played a key role in the commencement of the prestigious BVB college of Engineering and P C Jabin Science College, Hubli and the S Nijalingappa College, Bangalore. He was conferred with an honorary doctorate by the Karnataka University Dharwad where he also was a senate member.
PROF. B S HANCHINAL (1889-1964)
Born to a elite family of Hubli in 1889 he went on to complete his graduation from the Deccan College, Pune and joined the KLES anglo-vernacular school as a teacher. Fondly known as 'Cotton King' he sincerely and untiringly served the noble cause taken up by the KLES as a teacher and life member. He had a lion's share in starting the teachers training college, Belgaum. He was also a key member of the L.E association and Vidyavardhak Sangha Dharwad. A talented bright teacher and educationist, he was equally good at the sport of tennis.
PROF. P R CHIKODI (1884-1961)
Born in 1884 at Rabkavi he finished his primary education in Hubli-Dharwad and went on to complete his higher education from Fergusson College, Pune. He left his law course midway and returned to Belgaum to join and conceive the establishment of the KLES where he served as a teacher and life member. His love for public life saw him serve as member of Bombay Legislative Council for 14 years and played a very active role in the co-operative movement in Karnataka. He was conferred with Member of British Empire honor. He also left an indelible literary mark as an editor of the Kannada weekly 'Prabhakar'.
SARDAR V V PATIL (1888-1979)
Born in 1888 at Kachari village in Hirekerur taluka he finished his primary education in Dharwad and went on to pursue his agricultural studies in Pune. During this tenure he was influeneced by the freedom struggle and eminent freedom fighters such as Lokmanya Tilak and Mahatma Gandhi. He returned to Belgaum to join hands in the founding of the KLES and was chosen its first secretary. He gave up his life membership in 1931 and relocated himself to Hubli. He was conferred with the prestigious Padmashree award in 1951 and the State Government Award in 1966.